About Letterpress
Luxury and locally handmade can go together.
Our fine loose-leaf tea line is for the tea drinker who wants quality for their home and their bodies. Our premium tea blends will pair with the finest afternoon tea and silverware, while being packaged in fully compostable material. From the tea leaves, to the pouch, the label and the tea filters - we've sourced 100% backyard compostable products so you can feel good about the sustainability of your purchase.
Along with the Letterpress loose-leaf tea line, the shop holds beautiful and intentional products. Most of what we carry is handmade in Ontario, and seasonal collections are in-store to help you move through everyday living mindfully.
When you receive your lovingly prepared packages at your doorstep, the packing paper, packing tape, and shipping label are all backyard compostable. You can also use the cardboard box in your no-dig garden beds, re-use them, or recycle them.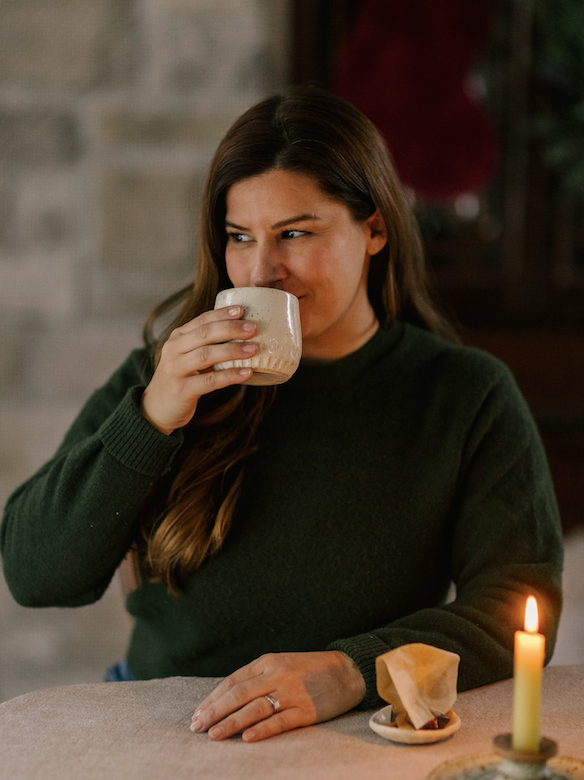 Shopkeeper
Kiki Carr is the owner and operator of Letterpress Shop and Letterpress Tea. Every item in the shop has been carefully tried and tested by her, to stock the best products while remaining as low waste as possible.
As a tea drinker herself, she knows what it means to want the best for your body. As a Tea Sommelier in training, she understands the deep connection between farming and steeping - for a superior flavour. She is also the author of all the journal entries, recipes, and education found in the Journal section.

When she's not in the workshop curating the next season's collection, Kiki is a writer for different publications, author of SHE MADE WAVES poetry book, and house flipper with her husband on a little network called HGTV Canada.
Learn more about Kiki